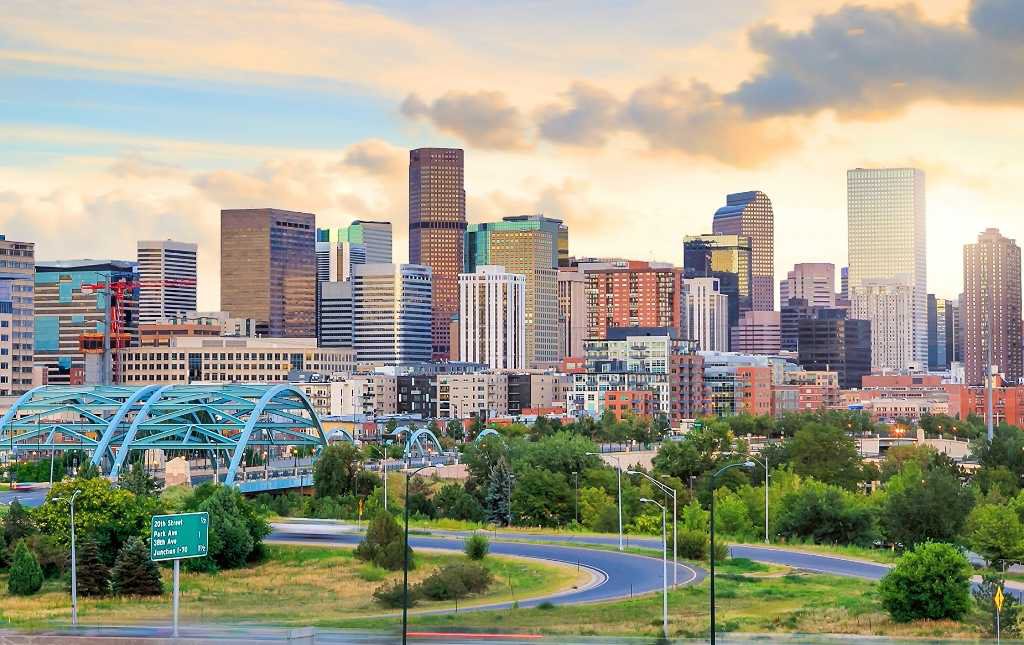 February 2019 - Ten Things You Need to Know
The year has started with better than expected numbers across most global markets compared to Q4 2018. The US Federal Reserve ending its tightening cycle has ended the near term threat of economic stagnation and rising interest rates. Some markets remain in secular growth mode including most global cities connected to the technology industry. The direction of many global property markets and the global economy as a whole will see heavy influence from the outcome of the upcoming China-US trade negotiations. The psychological impact of a positive result here should not be underestimated in a surprise to the upside in Q2 2019.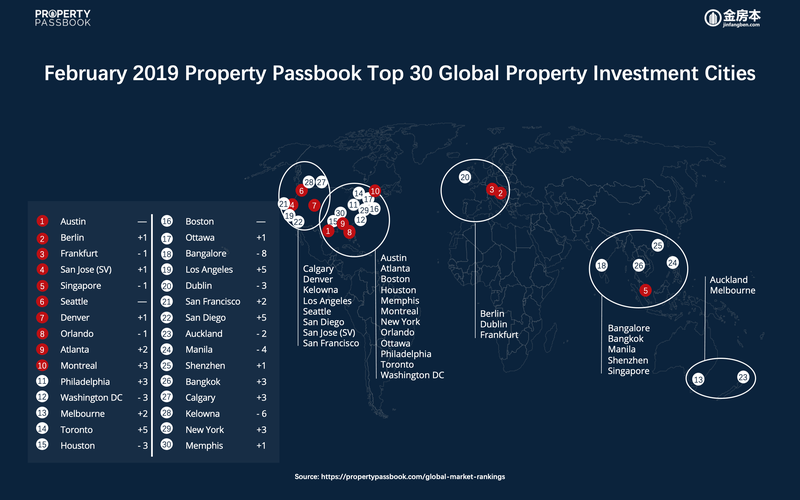 1. Austin, Texas USA – (February Rank #1)
Google has been on a real estate spending spree, reportedly adds Austin to the list – Google has made several large real estate moves meant to provide room for more jobs, now including a 35-story office tower in Austin, Texas, according to the Austin-American Statesman newspaper. The office tower provides space for 5,000 jobs, according to the report, which cites local real estate sources. A Google spokesperson declined to comment." ~ Kate Fazzini – CNBC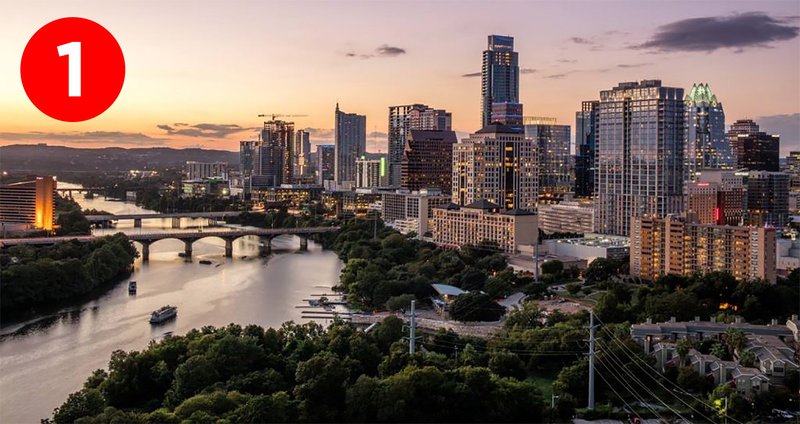 2. Berlin and Frankfurt, Germany – (February Ranks #2 and #3)
Investors flock to Frankfurt as Brexit bites in London Financial News of London writes, "Both Frankfurt and Berlin have pitched themselves as a location of choice for businesses after Brexit. Frankfurt in particular is keen to woo banks and other financial services firms that will need more employees on the continent to continue working with regional customers. Goldman Sachs, for example, has taken space in a new office tower in the city." ~ Tim Burke
Bloomberg follows with their Frankfurt Real Estate Guide, "Moving there because of Brexit? Here's what you need to know about the housing market." ~ Heidi Mitchell


3. San Jose & San Francisco, California USA – (February Ranks #4 & #21)
From Silicon Valley Biz Journal How the San Jose metro dominates the nation's list of most equity-rich homes "Eight of the nation's top 10 equity-rich ZIP codes are in the San Jose metro and 24 of the top 50." ~ Jody Meacham
While the San Francisco Chronicle adds, "Bay Area housing market cools, but it's still nuts "An 848-square-foot Sunnyvale home, which sold for $2 million in February, made headlines as an example of Bay Area housing insanity." ~ Kathleen Pender


4. Singapore – (February Rank #5)
Google in talks for 400,000 sq ft space at Alexandra Technopark "The space that Google has been offered by Alexandra Techopark's owner, Frasers Commercial Trust (FCOT), is largely the area that has been vacated by HP, when it moved to 1 and 1A Depot Close, which was completed in phases in 2016 and 2017." ~ Kalpana Rashiwala – The Business Times


5. Denver, Colorado USA – (February Rank #7)
Denver apartment development booming despite signs of slowdown "So far, tenants have snapped up the huge surge in new supply, confounding predictions of a saturated market. Companies continue to add jobs here, and young adults continue to move to the Front Range to fill those jobs. Plus, a lot of native millennials still live with family, leaving another pent-up base of demand." ~ Aldo Svaldi – Denver Post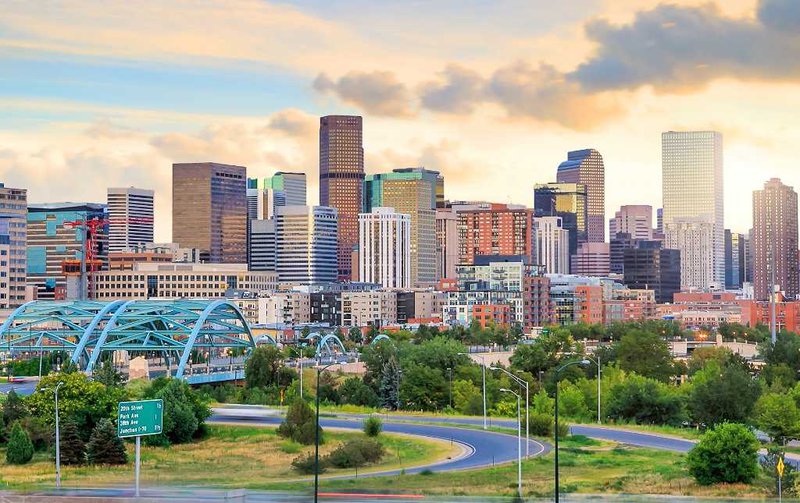 6. Montreal, Canada – (February Rank #10)
Canadian Real Estate Sales Plummet, Only One Major Market Sees Growth In December "The declines were consistent across boards, but a few markets did less worse than other. Montreal reported 2,825 sales in December, an increase of 2.5% compared to the same month last year. Ottawa reported 677 sales, down 12.9% from last year. Winnipeg came in at 495, down 14.4% from last year. Yes, only one major market with more than 500 sales last year, grew this year." ~ Kaitlin Last – Better Dwelling


7. Melbourne, Australia – (February Rank #13)
Chinese to seek Aussie property 'bargains' in 2019, with Melbourne No. 1 target From CEO Carrie Law, "Melbourne retains clear advantages over Sydney in terms of lifestyle, prices, and also a foreign buyer stamp duty that, at 7 per cent, is one point lower than the NSW equivalent." ~ Samantha Landy – Herald Sun


8. Auckland, New Zealand – (February Rank #23)
Auckland property market falling as we speak, acting like Sydney 'lite' – economist Economist Cameron Bagrie says "the Auckland property market is falling as we speak – let's not sugar coat this – people are out there saying the market is flat, the market is not flat. Auckland house prices are down 3% from their peak about 12 months ago and some wards are already down 5-6% but at this stage it is very orderly, it's very manageable." ~ Corin Dann – 1 News Now


9. Manila, Philippines – (February Rank #24)
Property market needs 'balance' as Chinese demand rises: analyst "Rising interest rates make investors more careful, but will be good for the market in the long run. Fast-growing and innovative developments make the local market interesting," said PropertyGuru International Awards managing director Jules Kay. – ANC Early Edition


10. Bangkok, Thailand – (February Rank #26)
Chinese investors are spending billions on Thai property despite a turbulent political scene – Foreign buyers have not been deterred by the country's political limbo over the last five years as the Thai economy, business processes and policies have showed consistency and resilience despite numerous government changes. Thailand's popularity among Chinese property investors has soared despite a 2014 military coup and uncertainty about upcoming elections. ~ Huileng Tan – CNBC


Bonus: New York, New York USA – (February Rank #29)
Goodbye, NY: Amazon says it won't come to Queens due to political opposition – In response, Sen. Gianaris says tech firm is acting "like a petulant child." From Amazon, "…the commitment to build a new headquarters requires positive, collaborative relationships with state and local elected officials who will be supportive over the long-term." Meanwhile much has been made about how Google is growing in Hudson Square without the tax benefits Amazon would have taken advantage of. CBRE's Mary Ann Tighe said the Amazon deal was unique in its transformative effect on Long Island City, "A key point on the Amazon deal is that they elected to pioneer a neighborhood," she said. "Google's growth is obviously a huge blessing for the city, but they're growing in among the most desirable neighborhoods for New York city office space." ~ Kathryn Brenzel – The Real Deal
Editor's note: The 10 Things You Need to Know is currently a free content curation from Property Passbook. To gain even more precise insights, sign up, and create your investment profile. As part of Passbook Premier, you'll enjoy property specific market analysis from around the globe, the ability to manage your global properties in our app, and early VIP access to the best upcoming global residential projects. To follow Property Passbook on social media, please find links to our accounts in the footer of our site.