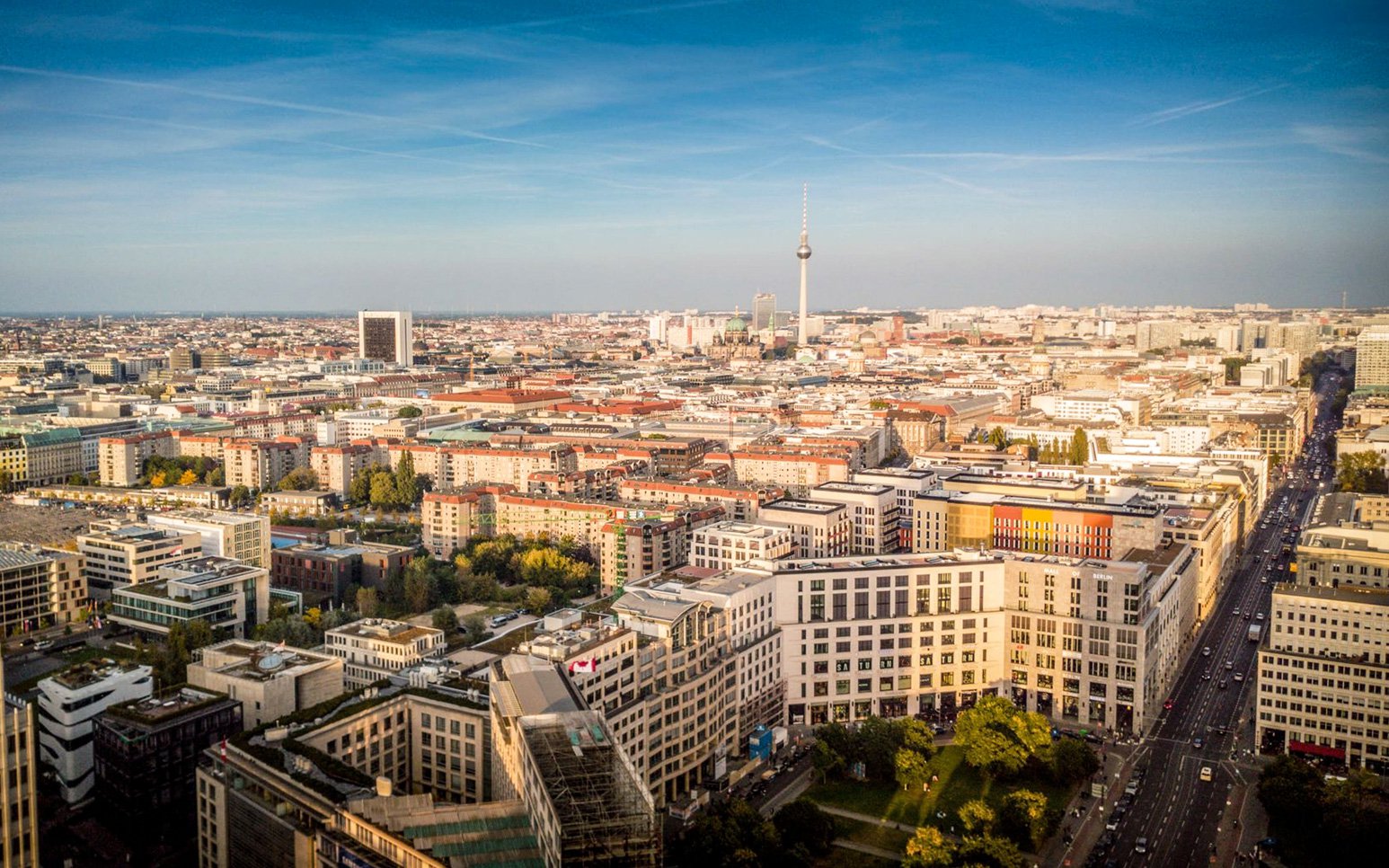 May 2019 - Ten Things You Need to Know About the Global Property Market
As we enter May 2019 most markets continue to have cautious optimism baked in as most major markets are beginning to forecast and price in further interest rate cuts this year. This should lead to further declines in borrowing rates on credit products including residential mortgages. New Zealand recently led the way lowering its rate to an all time low of 1.5% bringing it in line with Australia. Helsinki debut in the top 10 global markets as a strong economy and highly educated workforce continued to propel the economy forward. Other gainers included Coventry in the United Kingdom and Shenzhen. Looking forward, we are cautiously optimistic that most negative news has been priced in and that most key global property markets have bottomed as we enter the summer.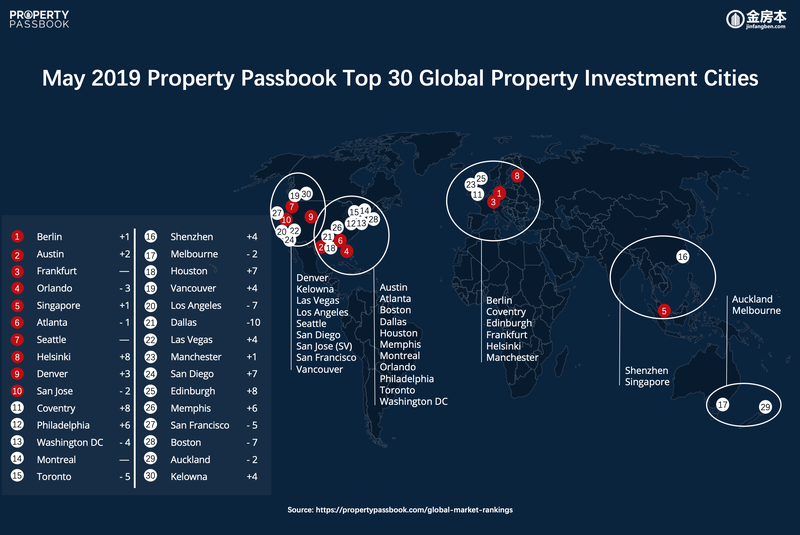 1. Berlin & Frankfurt, Germany – (May Rank #1 and #3)
German dorms are so pricey, students are building their own The German Economic Institute's latest price index shows that rent prices for students in German university towns have risen from between 9.9% and 67.3% since 2010. In April, thousands of people took to the streets of Berlin to demand more action from the government. The German capital of Berlin, which has become one of the world's fastest-growing real estate markets, will soon hold a referendum on mass expropriation of property by the city. ~ Kate Brady – BBC
Leaving London: voices from the financial front lines of Brexit In the long run, Brexit will probably influence Frankfurt more fundamentally than Deutsche's potential recording of Commerzbank. But at the moment little has changed in the steep city of 730,000 people. Since Brexit voted in 2016, more than 45 financial institutions have established or bent their presence in Germany, and the vast majority choose Frankfurt. such as Goldman Sachs, JPMorgan and Standard Chartered. "Frankfurt is the first choice for Brexit banks," said Gertrud Traud, CFO of Frankfurt, Helaba, a state bank that follows the process closely." ~ Olaf Storbeck – FT

2. Austin, Texas USA – (May Rank #2)
Austin real estate makes surprising shift to 'buyer's market' – Homes spending more time on the market and home prices being cut — show buyers in the Austin area now enjoy more bargaining power, Trulia economist Elliott Deal says. He acknowledges, though, that it's not easy to view Austin as a buyer's market in light of a 7 percent hike in home values in just one year and a 60 percent spike over the past six years. Overall, Austin homebuyers face a good news/bad news scenario. ~ John Egan – Culture Map Austin
3. Orlando, Florida USA – (May Rank #4)
Walt Disney World And Orlando International Airport May Soon Be Linked By Trains, If Virgin Gets Its Way – Of course, nothing is going to happen on the project any time soon. There are mountains of red tape to cut through, negotiations with landowners to be hammered out, financing to be secured. If the project were to be given approval tomorrow, says Virgin, it would still be 30-36 months before the first passengers boarded. Still, Virgin hopes to get construction started "imminently." ~ Aaron Homer – Inquisitr
4. Singapore – (May Rank #5)
Singapore remains world's 2nd priciest private property market: CBRE – CBRE head of research for South-east Asia Desmond Sim said: "As a financial hub, Singapore is known for its skilled talent, ease of doing business, top-notch infrastructure, as well as economic and political stability. Singapore has always been an attractive location for multinational companies to establish their regional headquarters. These factors influence the cost of property ownership in the city."
Asian cities took half of the spots in the top 10, with Shenzhen coming in fifth and Beijing, ninth. The other cities in the list were Vancouver (4th), Los Angeles (6th), New York (7th), London (8th) and Paris (10th). ~ Janice Heng – The Business Times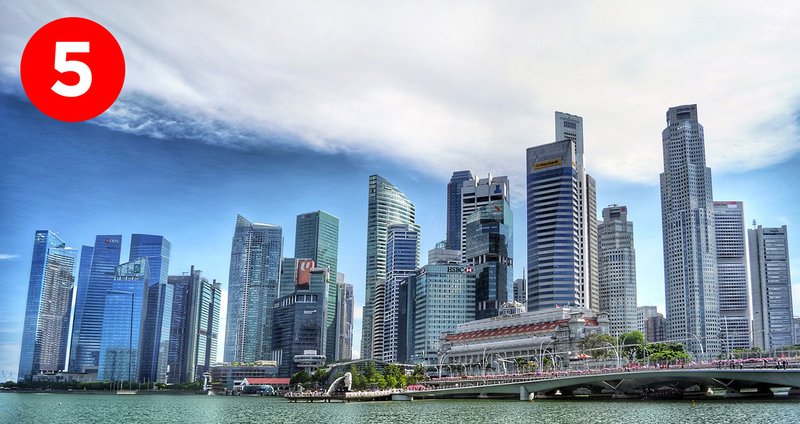 5. Seattle, Washington USA – (May Rank #7)
Renter boom: Apartments filling up faster in Seattle area than anywhere in the U.S. – The Seattle area is filling up new apartments faster than any region in the country, suggesting demand for housing is starting to catch up with the record construction boom — not a great sign for tenants hoping landlords get desperate and drop rents.
The new figures offer fresh insight into the years-long, multibillion-dollar experiment being waged by developers as they build more apartments in the city of Seattle this decade than in the previous half-century combined, betting on the long-term economic health of the region. Will enough renters eventually materialize to fill them, or will the city have a skyline of empty ghost apartments? ~ Mike Rosenberg – Seattle Times
6. Denver, Colorado USA – (May Rank #9)
'What's that?': Airport preparing land for major real estate project – Denver International Airport is taking another step forward on a large real estate project located on E. 56th Avenue between Pena Boulevard and Tower Road. Right now, authorities are beginning to develop the 3.8-acre parcel of land as a part of Pena Station Next development, a multi-tenant retail development that is a part of the airport's real estate portfolio called Denver's Global Gateway.
Developers began preparing the land in 2018 and the airport plans to issue a request for offers in the 4th quarter of this year. The entire Denver's Global Gateway development will cover 16,000 acres and, according to the airport, will be the largest commercial project connected to an airport in the United States. The plan is for the entire area to have direct access to DIA, multi-family homes, restaurants and entertainment. ~ Micah Smith – Denver 7 ABC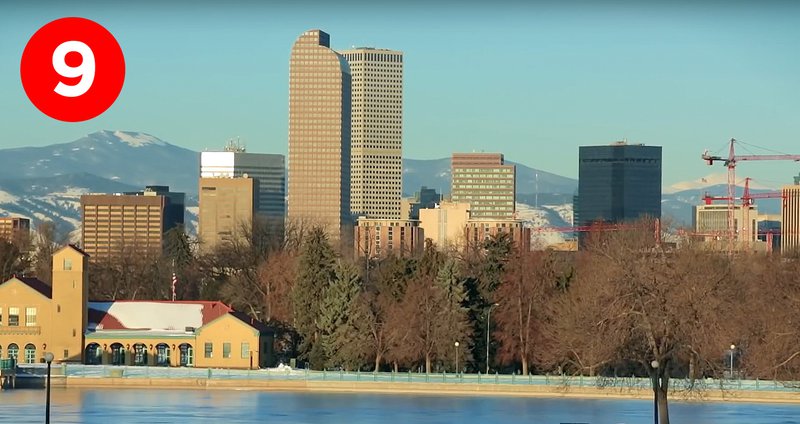 7. San Jose / Silicon Valley, California USA – (May Rank #10)
Redfin Report: Together, Uber Employees Could Buy Every Single Home For Sale in San Francisco, Oakland and Berkeley with their IPO Cash – Redfin's calculation is based on an IPO price of $47 per share, the midpoint of the ridehailing company's proposed price range of $44 to $50 per share. Using the $47-per-share price, current and former employees hold roughly $3.32 billion worth of stock in the San Francisco-based company.
If all $3.32 billion of the total stock wealth were to go into the San Francisco Bay Area real estate market once the IPO lockup period ends, current and former Uber employees could hypothetically buy all 1,612 homes for sale in San Francisco, Oakland and Berkeley combined for $2.9 billion. ~ Linda van Tilburg – Cision PR Newswire
8. Montreal, Toronto & Vancouver, Canada – (May Ranks #14, #15 & #19)
Montreal home sales rise for a 50th straight month, gaining 11% in April – Montreal's real estate market remained on fire in April with residential home sales increasing 11 per cent from a year ago. Quebec's real estate broker association says home sales in metropolitan Montreal marked the 50th consecutive monthly increase in sales, rising to 5,973 units. – Montreal Gazette
Chinese real estate investors wary of Vancouver head to Toronto – Asian investments in Vancouver fell to almost $350 million in 2018, a drop from the $1 billion-plus that hit the market in each of the two prior years, according to data from CBRE Ltd. In contrast, Toronto took in $526 million of Asian investment last year, up slightly from 2017, including a $256 million purchase of an office building by Chinese private investor Tigra Vista Inc. ~ Natalie Wong and Natalie Obiko Pearson – BNN Bloomberg
In Vancouver, college kids live like kings in empty mansions: Stories from a real estate market in upheaval – Others may also soon find themselves as lucky as more mansion owners in the city turn to renting to avoid a new tax on empty homes. In the new world of Vancouver's housing market, where Chinese investors are decamping and low-ball offers are the norm, students can find themselves living in the lap of luxury. ~ Natalie Wong and Natalie Obiko Pearson – Financial Post
9. Melbourne, Australia – (May Rank #17)
Property downturn appears to ease – Between January and April, Mark Bainey of Capio Group sold 37 apartments in his Epping development at the same level of pricing as when he first tried to sell them 12 months ago. "We tried to sell those apartments last year off the plan but had no luck, even with a price reduction," he said. "It's all about buyer confidence right now, it's not price – we've changed our prices up and down and there's been no movement in buyer activity until earlier this year. It is all psychological. I think buyers are starting to see the pace of decline slow and that's giving them confidence," Mr Bainey said. ~ Ingrid Fuary-Wagner – Financial Review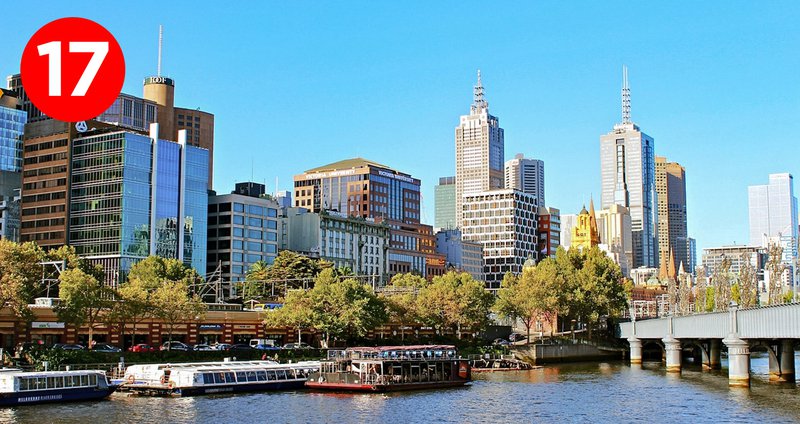 Special Mentions
10. Bangkok, Thailand – (May Rank #30+)
Bangkok home price among the cheapest in the key global cities - CBRE – Hong Kong maintains its position as the world's most expensive residential city, while Bangkok is ranked at 33rd out of 35 global cities surveyed, according to the latest research by CBRE. Bangkok has an average residential property price at THB 3.4 million (USD 106,383), followed by Ho Chi Min City (34) at THB 3.29 million (USD 103,057) and Istanbul (35) at the bottom of THB 3.11 million (USD 97,396). ~ Jennet Siebrits – ReTalk Asia


11. Shanghai, China – (May Rank #30+)
China's banks defy Beijing by pumping loans into property, despite economic slowdown – Despite Beijing's push for state-owned banks to lend more to private companies, half of new loans issued by China's big six banks last year went to individual property buyers.
Data retrieved through a South China Morning Post analysis of the banks' reported annual results underscores the challenges faced by Beijing in guiding more money into the real economy, amid mounting worries about higher household debt and a new housing bubble.
It also illustrates the problems facing China's private sector, which, at a time of economic downturn, continues to be starved of bank capital. ~ Orange Wang – South China Morning Post
Editor's note: The 10 Things You Need to Know is currently a free content curation from Property Passbook. To gain even more precise insights, sign up, and create your investment profile. As part of Passbook Premier, you'll enjoy property specific market analysis from around the globe, the ability to manage your global properties in our app, and early VIP access to the best upcoming global residential projects. To follow Property Passbook on social media, please find links to our accounts in the footer of our site.