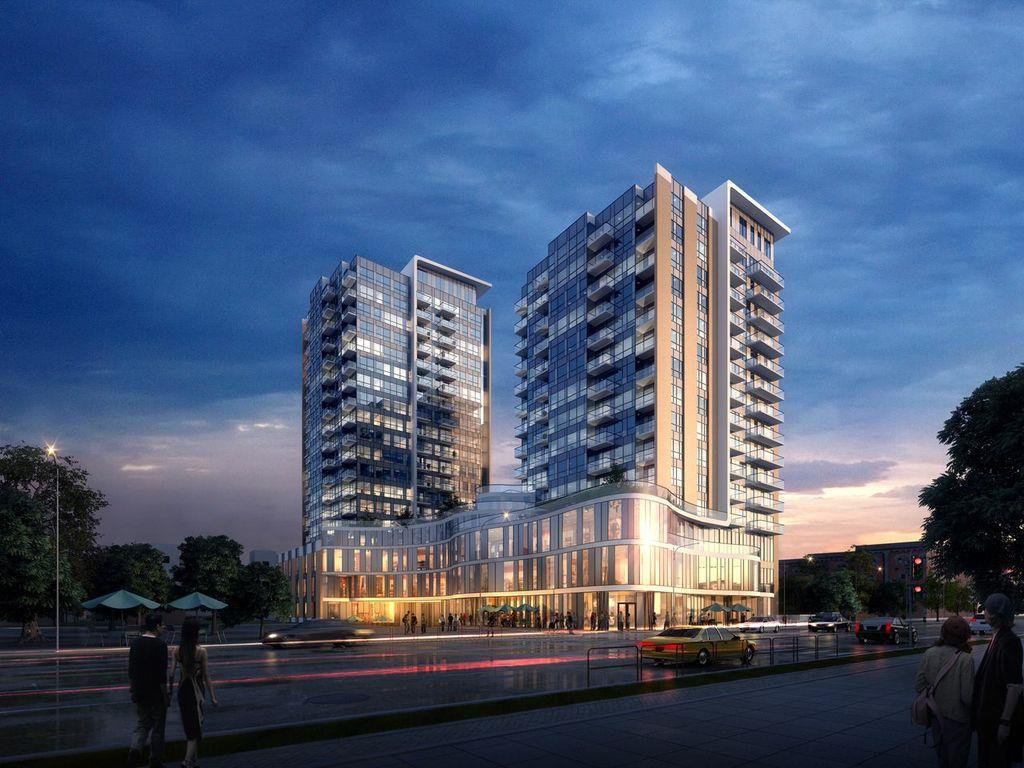 Q1 2018 Top Global Property Investment Cities
Whether the current economic cycle has peaked is a recurring question analysts have had to answer as we move into Q1 of 2018. Real estate and investment experts were feeling bullish on Asia, generally enthusiastic about continental Europe, while cautious about Brexit. However, with the global economy experiencing its best year since the financial crisis, the general sentiment is that opportunities are everywhere.
United States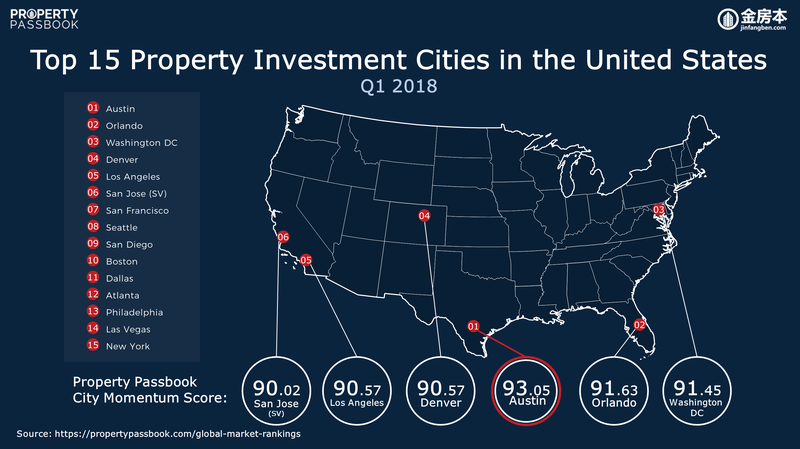 The housing market in the U.S. has experienced a major uptick over the past two years. More than a decade after the worst housing crisis in U.S. history, it seems it is finally in a sustainable recovery period. As we enter 2018, the housing market shows no signs of slowing, and is slated to remain among the world's top performers, according to a forecast from Fitch Ratings. U.S. home prices are expected to rise 4.6 percent this year.

Texas
Thanks to a booming economy, Dallas and many other areas in the Lone Star state have seen a boom in housing over the past several years. A steady flow of profitable companies continue to relocate, expand, or launch their businesses here, thanks to lower taxes and a lower cost of living. In 2018, home sales are expected to grow by six percent in 2018.

Houston
Houston's housing market hit a new high for home sales in 2017, besting the previous year's record by 3.5 percent amid an unexpectedly strong rebound after Hurricane Harvey. By the end of December buyers had closed on 79,117 single-family homes across the Houston area, representing $23 billion, the Houston Association of Realtors reported. The median price for the year increased 3.8% to $229,900.

New York
Google will reportedly close a deal in the next two months to acquire the Chelsea Market building in downtown New York. This isn't the tech giant's first move into what appears to be a straightforward real estate acquisition. The purchase of the Chelsea Emporium, located across the street from Google's New York headquarters, has caused excitement in both the real estate market and the tech industry as to what the rumored purchase could mean for the company's future plans.

Washington
Property Tax in King County will be raised by 9 - 31%, depending on the city of residence. This is the largest property-tax increase in King County in modern history. The increment of property tax bills in 2018 will varies widely from city to city. The small city of Carnation will suffer from the largest spike, with the tax on the median assessed-value property rising by 31%, while the city of Normandy Park will see the smallest property tax increment of 9%.
Asia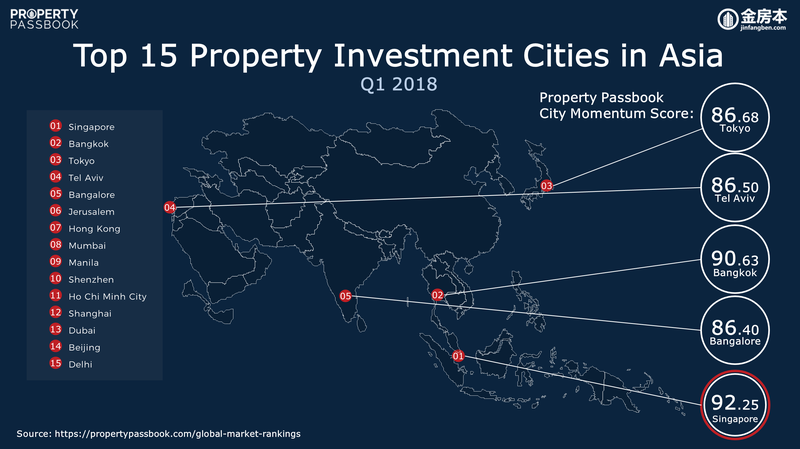 Thailand, Pattaya
Qatar Airways launched its first direct non-stop flight to Pattaya at U-Tapao Rayong Pattaya International Airport. This new route was launched in response to the increasing demand from Qatar Airway's passengers, connecting Pattaya to more than 150 destinations around the world.

The Japanese funded hi-speed train, linking Thailand's three principal airports Don Mueang, Suvarnabhumi and U-Tapao will be operational in 2023. Pattaya, situated along the line will be one of the intervening stops. This megaproject is established to facilitate transport links across the Eastern Economic Corridor which is attracting huge foreign investment. Given that there is currently no public transport connecting Pattaya and Rayong's U-Tapao airport, the inclusion of Pattaya railway station in the mega project will definitely facilitate movement across cities.

Thailand, Bangkok
Bangkok is on the cusp of emerging as the world's next "megacity", as predicted by industry experts at the 7th Annual Thailand Tourism Forum (TTF). The rapid expansion on Bangkok's Metro system within the next five years will open up more economic opportunities in the tourism and travel industry. There are also several massive infrastructure megaprojects in Bangkok like the East Economic Corridor, Don Mueang-Suvarnabhumi-U-Tapao high-speed rail network, among others. Deep-sea port expansion is also rolling out in areas around Bangkok Sattahip, Map Ta Phut and Laem Chabang.

Thailand, Phuket
Thai AirAsia began its daily Macau-Phuket flight earlier this year, bridging Phuket and Macau. The number of Chinese tourist to Phuket has been on the rise which calls for AirAsia's effort to increase the number of flights from Macau to Phuket.

Manila, Philippines
It was recently announced that Netherlands will be helping Philippines on the Manila Bay Sustainable Development Master Plan (MBSDMP). Both nations agreed to formulate a master plan to develop and manage the Manila Bay area, restoring it to its "old glory". The implementation will take place over the next 31 months and the development of the bay area is expected to bring about enormous opportunities. Other revenue-generating investments expected to be spurred by the development of the Manila Bay include those in transport, in line with plans to connect it to the Pasig River as well as the Laguna de Bay.

Singapore
It was announced in Parliament that short-term stays such as those provided by Airbnb may be allowed for private homes. Minister for National Development, Lawrence Wong further commented that officials are working out the regulatory parameters and will consult the public on the proposed measure before finalizing them. Currently, short-term rentals under 3 months are illegal in Singapore.
Canada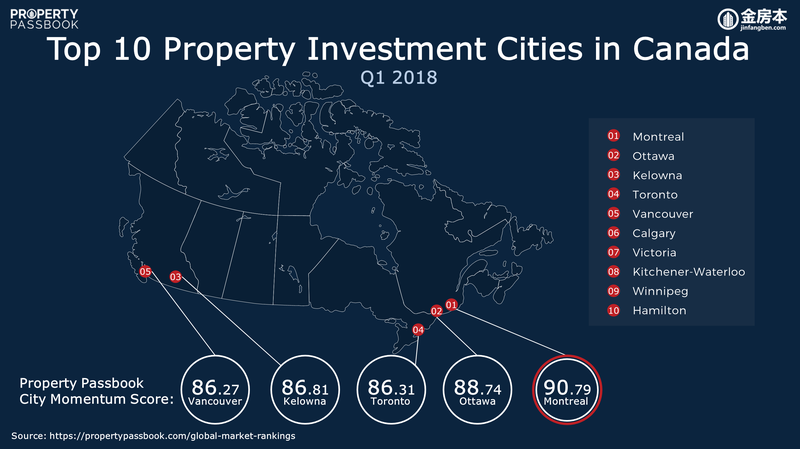 Montreal
Montreal's real-estate market continued to grow in January, with prices and the number of sales rising year-over-year, according to the Greater Montreal Real Estate Board. The strongest price growth in the region was on the island of Montreal, where the median condo price rose 4% on the island, to $292,000 from $280,000 in January 2017.

Calgary (Alberta)
One of the chief areas driving economic growth in Calgary is the energy sector and the Calgary Real Estate Board says that it has been rebounding slowly back from the lows seen two years ago, with oil rebounding to the highest it has been in three years.

After two painful years, Alberta is now widely expected to lead the country in GDP growth. The latest employment data blew away even the most optimistic projections - more people are employed now than before the oil-price crash. Yet, the word "recovery" doesn't feel right, because it's not returning to what it was once before.

The recession forced employers to trim the fat and plenty of jobs were cut which probably never needed to exist in the first place. The landscape was forced to adapt, and from it emerged different jobs, new skills, a changed industry and maybe even a semblance of the long-elusive goal: diversification.

Toronto / Vancouver
Home construction in Toronto and Vancouver failed to keep pace with surging demand between 2010 and 2016, leaving prices with "nowhere to go but up," according to a new report from Canada's federal housing agency.

Home prices soared 40 per cent in Toronto over the period examined and 48 per cent in Vancouver.
Europe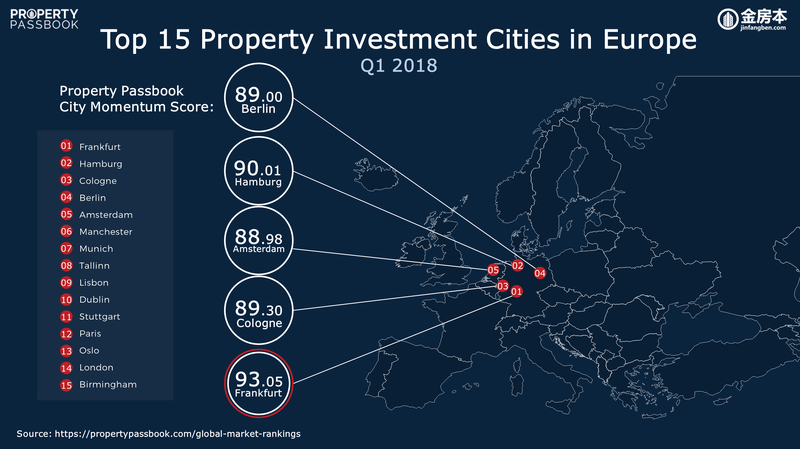 United Kingdom
Britain's Brexit-bound economy will grow faster than previously thought over the next two years, thanks mostly to strength in the global economy, according to the National Institute of Economic and Social Research, as reported by Reuters.

London
Strong demand from investors across the globe meant London regained its crown as the world's most active real estate investment market in 2017. There is no sign of investment demand for London letting up. While Brexit will cause periods of uncertainty, global buyers of London real estate will continue to transact. New market entrants, favourable global pricing and a rotation towards risk will drive investor appetite in 2018, with Greater China once again dominating.

Manchester (Northern UK)
Proposals calling for up to £70bn to be spent on transforming infrastructure in the North over the next 30 years have been unveiled. The proposals include building a new rail line between Manchester and Leeds via Bradford, which forms plans for Northern Powerhouse Rail. A new line between Manchester Airport and Liverpool is also recommended. Transport for the North estimates the improvements will bring a £100bn economic boost to the North of England and 850,000 extra jobs by 2050. The aim is to ensure 1.3m people are within an hour of four or more major northern cities.

Berlin
German start-ups enjoyed a record year in 2017, with investment in newly-launched companies jumping 88 per cent to €4.3bn. Berlin-based businesses accounted for the lion's share of funding, drawing 70 per cent of the country's total start-up investment, bolstering the German capital's claim as home to one of Europe's most prolific start-up scenes.

Frankfurt
Goldman Sachs Group, JPMorgan Chase and Morgan Stanley are on a hiring drive in Frankfurt as global investment banks race to establish new headquarters inside the European Union in time for Brexit. Banks want to fill as many positions as they can locally to limit the disruption caused by relocating London-based employees and their families. Goldman Sachs plans to more than double its staff in Frankfurt to 400 while Morgan Stanley intends to add about 200 roles in Germany's financial capital. Given the scarcity of experienced bankers in Frankfurt, firms are hoping that any shortfall will be met by German expatriates keen to return home. Given the likelihood of relocations by people of other nationalities, banks have already started block-booking places at international schools and leasing apartments in anticipation of a squeeze on local resources.
Oceania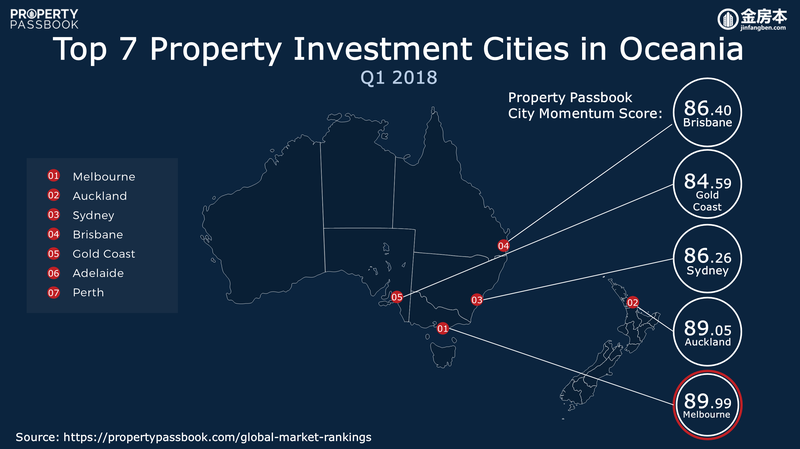 Sydney and Melbourne
The index of home prices for the combined capital cities slipped 0.5 per cent in January, after a drop of 0.4 per cent in December as weakness spread out from the Sydney market in the face of tighter rules on investment lending - a relief to regulators but a potential drag on consumer spending power. The Sydney housing market, which surged 75 per cent between February 2012 and July, has now dropped 3.1 percent from its peak, the data showed. Melbourne fared somewhat better, thanks in part to rapid population growth, with prices easing 0.2 per cent in January to be 8.0 per cent higher for the year.

Brisbane
Brisbane is well placed to take over as the nation's best performing capital city housing market in the next five years, a leading property analyst has predicted. There are a variety of economic and demographic factors that are likely to support improving market conditions across Brisbane. Net interstate migration to Queensland is now the highest of any state, outpacing Victoria for the first time since June 2013. Job growth in Queensland is currently the fastest of any state or territory, with 113,000 jobs created over the past year. They imply more demand for housing which should help to support an improvement in capital gains.

New Zealand
New Zealand's housing market ended 2017 on an upswing, according to a report by the Real Estate Institute of New Zealand. This defies the predictions of many commentators who were adamant that house prices would fall in 2017.

This comes in the wake of the announcement that New Zealand will ban foreigners from buying existing homes in early 2018 as the country saw property prices soar over the past decade. Some industry experts are not convinced the ban will make a meaningful difference, saying that foreigners are a small fraction of the market, with some suggesting it's as low as 1% and that many prefer to buy off-the-plan, for which the ban does not cover.
Overall
Geopolitical Outlook
In early 2017, global markets were nervous following Donald Trump's election win, worrying about the French election outcome and fearing the potential for a hard Brexit. However, many of the risks markets were worried about at the start of last year did not materialize, spurring very strong stock market performance. 2018 started with a strong economic backdrop, with the biggest worry being the potential for a protectionist U.S. approach to trade. This is a risk that could shake up global growth and earnings prospects-and call into question our economic outlook. Any breakdown in North America Free Trade Agreement talks would be an ominous sign for global trade and hit emerging market stocks in the short term.

Currency and FX Outlook
As reported by Bloomberg, the pound touched a new post-Brexit vote high against the dollar in early January this year, with investors clamouring to go long, as analysts urge caution. While on the face of it the U.K. currency has seen a recovery, in reality it is more about the greenback, according to Societe Generale SA strategist Kit Juckes. In sync with sterling's strength, the global reserve currency has fallen more than 2 percent since the start of January.
Also in Bloomberg, the yuan fell the most in early February 2018 since the currency's devaluation in August 2015 after China reported a much narrower than expected trade surplus as imports jumped. The country has resumed its Qualified Domestic Limited Partnership plan after a two-year halt, granting licenses to about a dozen global money managers that can raise funds in China for overseas investments, Reuters reported.

Interest Rates and Central Bank Outlook
A decade of low interest rates has created imbalances and vulnerabilities in the world economy. When this cycle ends, structural issues such as unfunded pension liabilities, high levels of youth unemployment, and economic imbalances will resurface. We need to watch out for economic optimism morphing into market euphoria, and we know very little about the market impact of an exit from quantitative easing.

Investors are watching for any signs that the Bank of England is moving towards a rate hike in the coming months, after it raised rates in November for the first time in a decade. Britain's economy grew faster than anticipated at the end of 2017, and financial markets have put a 50-50 chance on a BoE rate hike in May.

Housing Bubble Outlook
Outgoing Federal Reserve Chair Janet Yellen said U.S. stocks and commercial real estate prices are elevated but stopped short of saying those markets are in a bubble. The financial system is now "much better capitalized" and the banking system "more resilient" than they were entering the global financial crisis a decade ago.