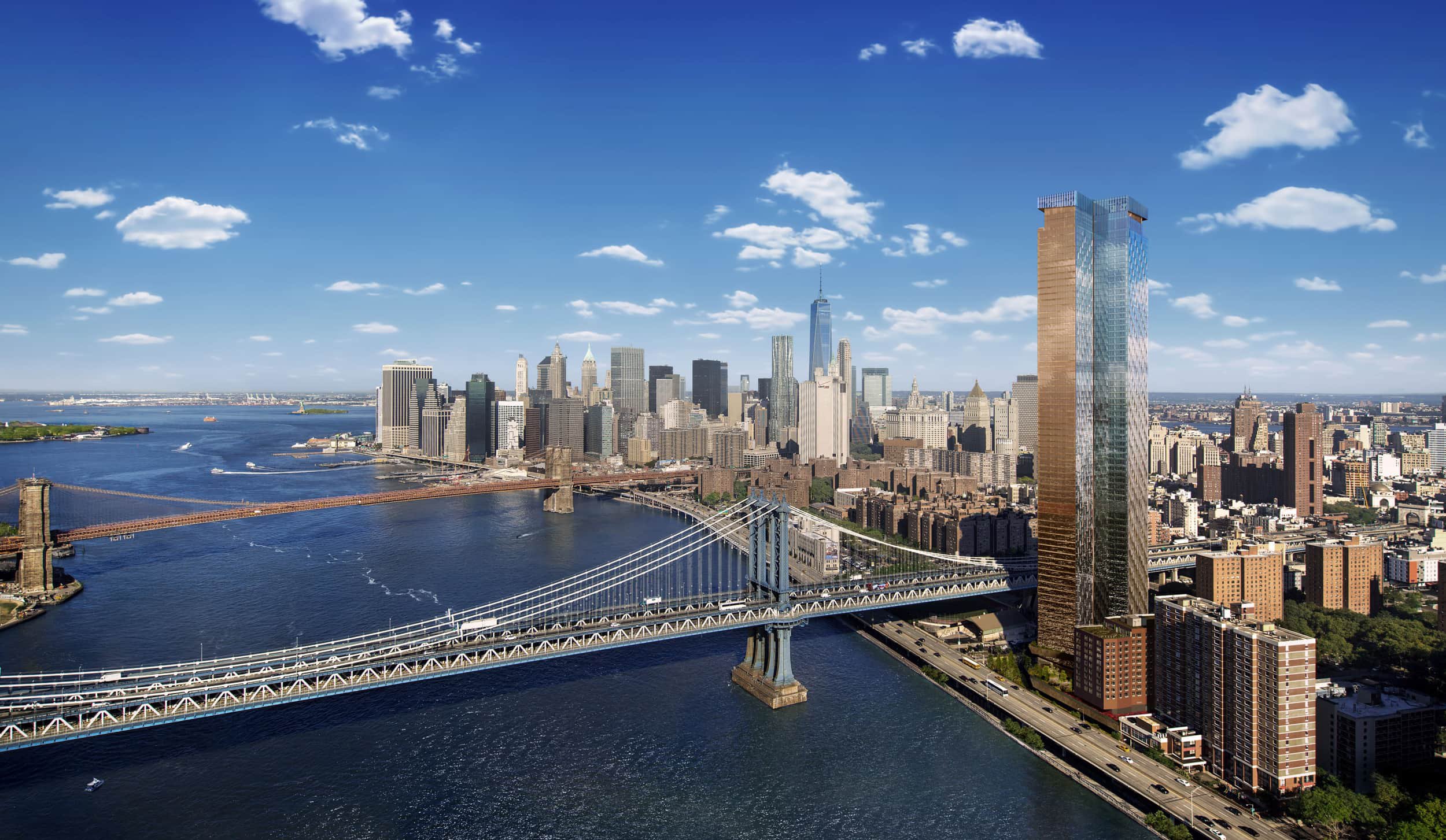 Q2 2018 Top Global Property Investment Cities
Political chaos in Italy, the spike in oil price and US-China trade battle. Despite the chaos, the global economy entered 2018 with more optimism than at any time in the past decade. Nearly all of the world's leading economies were recording relatively healthy rates of growth in recent months. Continue reading on, as the Property Passbook data team share their exclusive data and insights on the following markets.
United States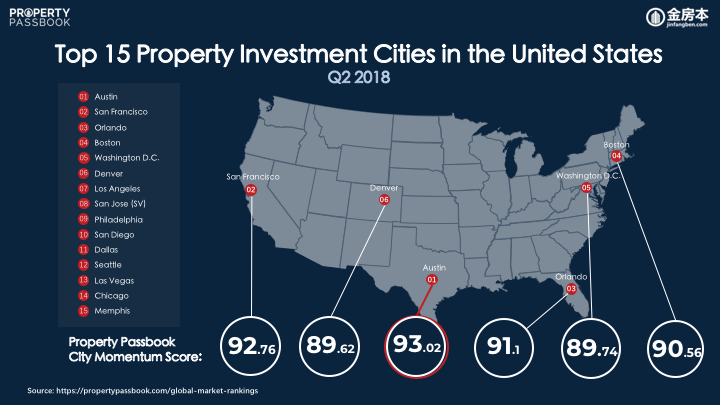 California
California took a major step Wednesday toward becoming the first state to require solar panels on nearly all new homes, the latest sign of how renewable energy is gaining ground in the U.S. The commission estimates that the move, along with other energy-efficiency requirements, would add $9,500 to the average cost of building a home in California. The state is already one of the most expensive housing markets in the country according to the California Association of Realtors.

Los Angeles
The city's rent control laws make the cost of some of the rented apartments more manageable. Los Angeles rents are among the highest in the nation, and with buying out of reach for most residents, millions of Angelenos are stuck paying for high-priced apartments.

In the city of Los Angeles, that means that renters in apartments covered by the ordinance should only see their rents rise between 3 and 8 percent annually (the percentage is tied to the Consumer Price Index; this year it's 3 percent).
Asia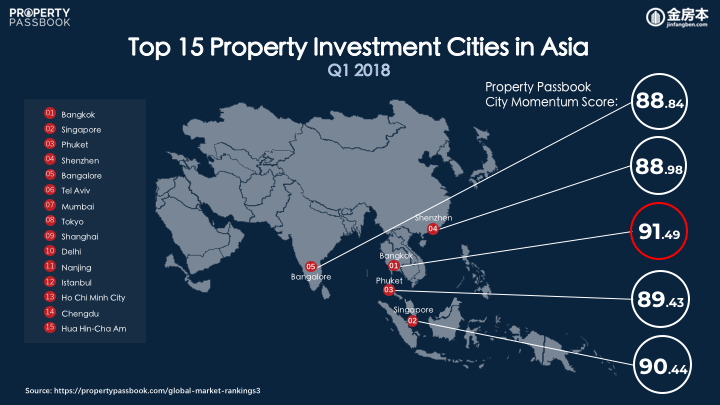 Thailand
Alibaba Group has announced its plans to invest in Thailand's Eastern Economic Corridor (EEC). The company will sign a memorandum of understanding (MOU) with the Ministry of Industry which will lead to the establishment of a smart digital hub in the EEC to facilitate trade between Thailand, China, Laos, Myanmar, Cambodia and Vietnam. It is said eCommerce businesses in Thailand will generate up to 180 billion baht by 2022.

Thailand
AoT board approves second airports for Phuket, Chiang Mai. Ban Thi district in neighboring Lamphun province has been earmarked as the site for Chiang Mai's second airport, and tambon Khok Kloi in Phangna province's Takua Thung district for the second Phuket airport. The planned second airports would cater to the rising number of visitors to these destinations and ease overcrowding at the existing airports.

Singapore
Prices of private homes in Singapore rose at the fastest pace in eight years in the first quarter, exceeding earlier estimates and reflecting growing confidence in the property market. Property prices started recovering in the second half of 2017 after a near four-year decline caused by a tepid economy and the government's cooling measures aimed at damping speculation.

Malaysia
Mahathir Mohamad, the newly appointed Prime Minister of Malaysia announced to withdraw from the Kuala Lumpur-Singapore High Speed Rail (KL-SG HSR) project, as part of his efforts after winning the election to restore the financial health of the country. In an interview with the Financial Times earlier, Mahathir said KL-SG HSR is one of the "unnecessary projects." This decision might potentially affect Singapore's Jurong Lake District development plans.

China
Chinese holiday island, Hainan intend to unblock several social media websites and apps such as Facebook, Twitter and YouTube. Visitors to China's tropical island of Hainan will have access to popular social media platforms that are banned elsewhere in the country, as part of a new plan drawn up by the local authorities to boost tourism. Other initiatives to boost tourism in the island include hiring English-speaking foreign workers, advertising on international networks, and improving the general image of Hainan.

Japan
Japan's new home-sharing law was meant to ease a shortage of hotel rooms, bring order to an unregulated market and offer more lodging options for foreign visitors ahead of next year's Rugby World Cup and the 2020 Tokyo Olympics. The "minpaku," or private temporary lodging law, limits home-sharing to 180 days a year, a cap some hosts say makes it difficult to turn a profit. More important, local governments, which have final authority to regulate services in their areas, are imposing even more severe restrictions, citing security or noise concerns.

Japan
Japan's longest growth streak in decades just came to an end. Its' gross domestic product contracted at an annualized rate of 0.6% in the first quarter of 2018, according to government data published Wednesday. The country faces serious challenges, including a rapidly aging population, a lack of women in the workforce and stubbornly low inflation.

Vietnam
Vietnam has emerged as a favoured destination among foreign firms looking to invest in property, with prices standing at among the best value in Southeast Asia.

Last year, Vietnam eased restrictions on foreign property ownership to improve market liquidity. The new law allowed foreign investment funds, foreigners with valid visas, international firms with operations in Vietnam and overseas Vietnamese to buy residential properties. The Vietnam Real Estate Association (VNREA) has forecast a promising outlook for the local real estate market as demand from foreign buyers drives market growth.

Philippines
Property prices soar in some Manila areas due to the jump in demand from Chinese buyers. While Chinese investors have been snapping up big swathes of high-end housing in Hong Kong, London and New York for years to move their money offshore, this new rush is motivated by something different: Manila's booming gaming industry. The influx of gambling companies to cater to Chinese players would trigger the demand of Chinese speaking workers. The resulting migration, while only a fraction of the metropolitan area's 12.9 million population, is propelling home prices to record levels in neighborhood favored by Chinese workers. Residential in the bay area has witnessed a 27.3% increment of price in Dec 2017.
Canada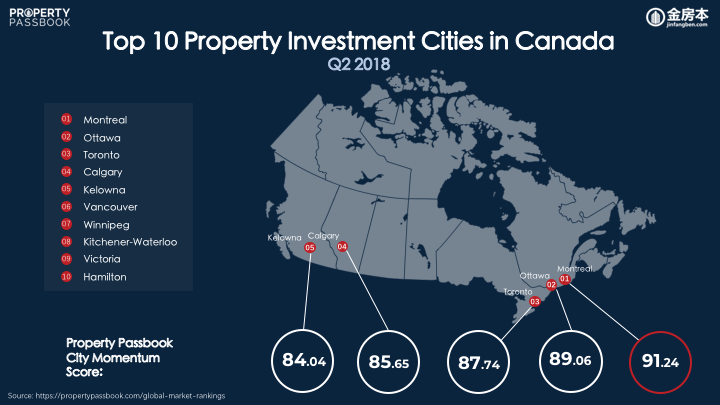 Toronto
Toronto condo market heats up as rent for bachelor hits $1,657. Condo rents in the Greater Toronto Area have gotten pricier as it becomes harder to find vacant units due to strong demand, according to new data from the Toronto Real Estate Board. This is the result of people moving to the region to take advantage of quality employment opportunities, stated TREB President Tim Syrianos. The result has heightened competition between renters, in an ultra-low vacancy environment, and double-digit rent growth in some market segments.
Oceania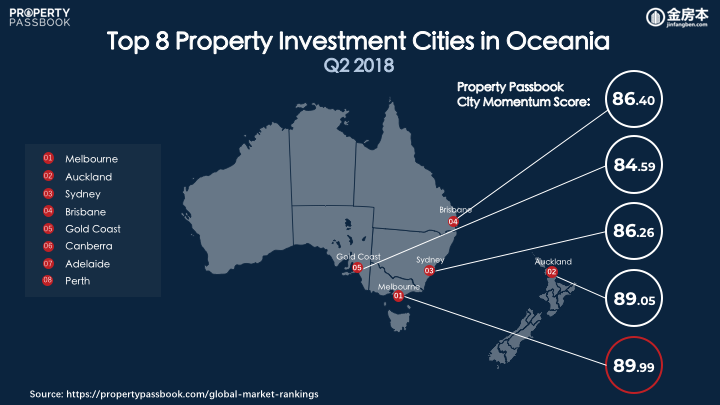 Sydney
Sydney has an ambitious plan. The most populous city in Australia has announced that it wants to split into three cities -- in as little as 20 years' time. The divide aims to tackle problems such as major population growth, sky-high housing prices and increasingly congested commutes. Splitting one city into three, the commission says, will give residents better access to housing, jobs and services across the board.
Europe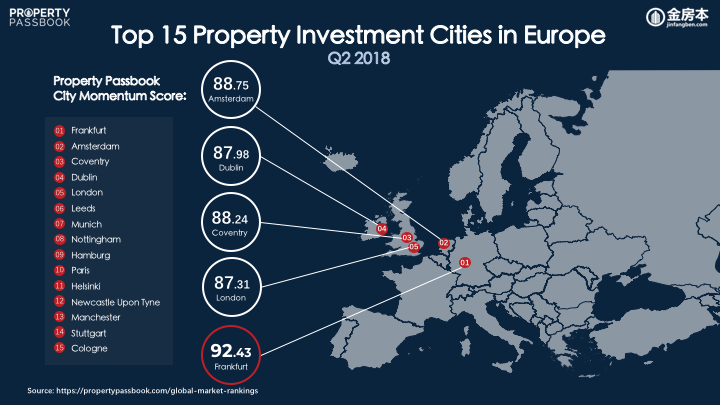 United Kingdom
The British economy has stalled. Its GDP grew by just 0.1% in the first quarter of 2018 compared to the previous three months, representing the weakest expansion in more than five years. Growth was partly hit by a sharp decline in construction. The real estate industry has been hurt by rises in property taxes and Brexit, with potential buyers putting their plans on hold because of the economic uncertainty.

London
After years of blockbuster growth, home prices have reversed course and are expected to drop further over the next year. The number of sales has dropped, and more homeowners are pulling properties off the market.

The government has in recent years hiked taxes on property purchases, making it more expensive to buy luxury housing, second homes and investment properties. Doing so has scared off some wealthy investors and caused prices to slump in central London.

Britain's decision to leave the European Union has also hurt the market, with potential buyers putting their plans on hold because of the economic uncertainty.

London
One of the UK's biggest property groups has launched plans for a 53-acre development at Canada Water in south east London, including office space, housing and leisure facilities. London-listed British Land is seeking planning permission for its Canada Water Masterplan and has entered into a development agreement with Southwark Council, with which it has been discussing the project for the past four years.

The entire site is expected to deliver two million square feet of office space, 3,000 homes and one million sq ft of leisure, entertainment and community space, according to a statement from British Land.